FATHER MICHAEL CONATY MBE
1933 – 2017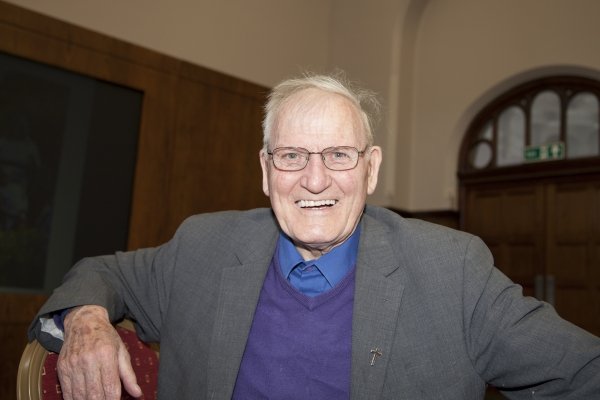 Father Conaty's Prayer
God is my help in every need.
God is with me now.
Wherever I go his peace goes with me.
God's love sustains me in everything I do.
I have a mission from God to fulfil.
I face today confident and
unafraid because Jesus is with me.
I picture only good for myself and others.
I will only do good for myself and others.
God will help me heal my mistakes.
He will not punish me, so I will not punish myself.
I forgive by a power not my own,
but which is within me.
I am an essential part of God's plan.
I am free from tension, stress and strain.
I relax completely in God.
I give this day to God to guide.
Father Michael Conaty was born in Corgariff, Ballyhaise, Co Cavan on 11th February 1933.
He was ordained to the Priesthood on 8th June 1958.
In 1958 he moved from Cavan to England and worked in the County Durham mining communities of Langley Park and Sacriston until 1963, when he moved to St Teresa's, Newcastle before moving on to St Anthony of Padua in 1973.
Father Michael dedicated his life to helping the disadvantaged and unemployed.  Father Michael became involved in the regeneration of the East End of Newcastle and helped many people into work through job training schemes.
His mission in Walker included the local shipyards and he continued to help the unemployed and the disadvantaged when the area was hit by the closure of the yards.  He was involved with the Manpower Services Training for Work programme in the 1980's in response to rising unemployment.
In partnership with Anglicans and Methodists, he set up the Northumbrian Churches Training Consortium (NCTC), a training company to help combat the region's skills gap.
In 1979 he established the St Anthony of Padua Community Association to respond to the needs of the community, the Association became a registered charity and company limited by guarantee in 1986.  The Association continues to provide home care, day care, extra care supported housing and youth services.  Father Michael remained the Chair of the Board of Trustees and Directors up to the point of his death.
In his search for other ways to help local people, Father Michael set up the Walker Open Learning and Fitness Centre (WOLF).  In 1994 he applied for and was successful in winning a standalone single regeneration budget grant from the government for this work.
Father Michael was also a member of the East End SRB 2 Partnership, a 7 year programme totalling £84m of investment to revamp designated areas in the East End of Newcastle.  In 2006, Father co-founded Building Futures East, a registered charity providing people and place based regeneration.  He was the Chair of the Board of Trustees and Directors up to the point of his death.
He was also the Chair of Governor for St Alban's Catholic Primary School in Walker and St Mary's Catholic School in Longbenton (judged Outstanding by Ofsted).
In 1998 he was awarded an MBE for his service and dedication to the people of Newcastle.  In 2008 he became the first person to receive the new Lord Mayor's Award, launched by Newcastle Council, to recognise his achievements to the local area, he dedicated this award to the people of Walker.
In 2011 a road in Walker was named Conaty Way in recognition of his continued commitment to the local area.
CURATE
St. Cuthbert's, Stockton, July 1958 – 1959
St. Joseph's, Langley Park, 1959 – October 1959
St. Bede's, Sacriston, October 1959 – April 1963
St. Teresa's, Newcastle, April 1963 – January 1973
St. Anthony of Padua, Walker, January 1973 – January 1978
PARISH PRIEST
St. Anthony of Padua, Walker, January 1978 – October 2017
Photographs of Father Michael Conaty